Do you dream in widescreen?
Last Friday night it was that time again to "Dream in Widescreen". The UA's School of Media Arts 2008 BFA class films were screened at the Fox Tucson Theatre (for the first time). All previous years that I have attended they screened the students' films at The Loft, but seeing as the place was packed to capacity the last few years they went for a change of venue and landed the Fox, which is a huge bonus for this years graduates (to see their films in such a venue).
Last year there was only one film I really enjoyed (which you can read about
here
), but this year there were several that piqued my interest. A short summary and a few comments on each behind the cut.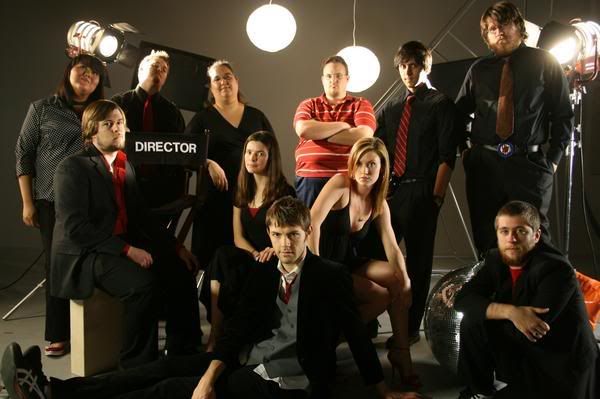 Prudence - Directed by Allen Menasco
Love at first sight isn't easy when you're the designated driver.
This little gem was my favorite by far. It's a romantic-comedy in miniature. Plenty of comedy with light touches of heart-rending romance. Our hero is the designated driver for his sister and a few friends after a wild party. One of which is the lovely Prudence who lives way out in Marana, giving our hero plenty of time for small talk. If only he would use the time to do so. I love the line the sister gives, something along the lines of "In order for a girl to know a guy likes her he at some point has to talk to her." While Prudence has only a handful of lines and is only in the first minute or so of the short film, it is essentially all about her. At least it is for the lead character. Love at first sight means nothing unless you talk to her.
On a personal note- if I was ready to make my own short film that is essentially a boy-meets-girl light romance, I would totally cast the male and female leads of Prudence. Also it might play as if he did call her and spent a perfect 24 hours with her.
Battling Both Sides - Directed by Justin Mahouf
Against the backdrop of an impending war, an American-born Iranian travels to Iran to discover his culture in this politically charged personal documentary.
In the times we live in it is an interesting notion that B-Boying can bridge the culture gap between the US and Iran. Well, that is just what Justin Mahouf tries to do in this fascinating documentary that takes you all the way to Tehran. One interesting point was when a young Iranian, brought up the ideal notion of One Worldism. He dreamt of a time when there would be no passports. No Iran or America. A world with out borders or nationalities. An interesting dream from someone in a country that is continually cast as a threat to democracy. Meanwhile its youth dreams of a Utopian society without borders. And Mahouf makes a poignant argument in his concluding voice over.
We can't make it happen unless we want it.
I am curious how this same subject will look in the feature length format, which is in the works so stay tuned for that.
Quixote - Directed by Justyn Buske
David sees dead people. Phil doesn't.
A zombie film without any zombies. Interesting. Two guys have barricaded themselves in their apartment because one thinks that the dead have started rising from their graves with the taste of human flesh. Is it all in his head? (The title might be a tip off.) A consistent feeling of tension and anxiety makes this a very compelling zombie flick without the zombies. And in my opinion, they really aren't missed.
Calles del Oro - Directed by Kim McGowan
Two investigators attempt to get to the bottom of a death at the border in this genre-bending musical.
Living in Southern Arizona you are constantly hearing about immigration issues: the border fence, minute men. This short takes up that issue but does so in quite a different way. A Mexican woman and a white male are being interrogated by two agents about an incident in the dessert. They find their individual voices through song. Each bursting out in song to express some deep emotional issues. The woman sings about "streets of gold" (
"calles del oro"
) in that Promised Land to the North but later laments that in actuality the streets are black. The man pleads to his government to "do your jobs." Some strong emotions on both sides. And the musical treatment of the issue fits very well.
Ghost Train - Directed by Claire Corcoran
An animated fantasy-western about a gunslinger who rides a haunted train used only by outlaws who fear the law more than ghosts.
From the first few seconds of this animated short you could tell a lot of time and work was put into it. Everything about it has the hand-made quality, from the characters to the backgrounds. And when you add the stop-motion animation... that is a lot of work. But I think it really paid off. It's like no animation I have ever seen. And the artistic quality of the characters are amazing. The lead character, a female gunslinger-outlaw looks fantastic. Prints of any of the characters could be hanging on a fine art gallery wall. The joint movements of each character is also a fascinating thing to behold. It's all so intricate. Mucho kudos.
The Toymaker - Directed by Nick Montemayor
A man struggles to keep what he loves without submitting to the world of business and money.
Told mainly through some beautiful visuals and an emotional score. The Toymaker's prized creation is a Dancing Figure in Blue musical figure. When wound the dancer comes alive in an all black space dancing for her creator seated in the first row. But when she is in danger of leaving him her dance becomes melancholic. But in the end the Toymaker finds a happy solution for everybody. A beautiful emotional fantasy.
Better Days - Directed by Katie Harris
When his passion for music leads him to a life of crime, Chuck knows he's seen... better days.
Chuck and his friend are street musicians but on this particular day an unfortunate event puts his guitar out of commission. So in order to get a new one he tries every trick, ruse and maneuver (including fraud and pandering) to gain enough funds for a new one. A fun hilarious journey with a dash of boy-meets-girl romance. The male lead played by an Aussie is of particular fun. And how can't you not love the crazy Carrot Top-like afro hair of his friend.